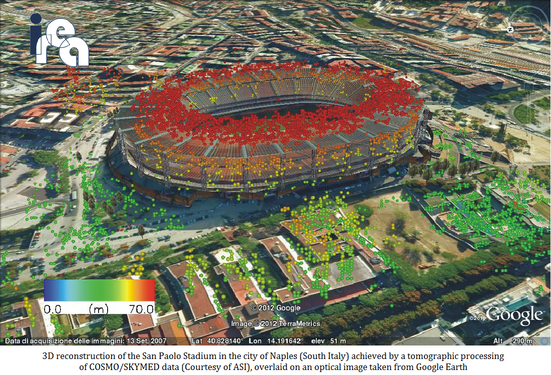 Multidimensional SAR focusing, 3D (space) and 4D (space-time), more commonly known as SAR tomography, is an innovative technique for the analysis of multipass SAR data, which has been demonstrated by IREA researchers for the first time using satellite data. This technique extends the classical SAR interferometry concepts. At present, thanks to this technology it is possible to achieve veritable 3D reconstructions of the observed scene with a high spatial detail. Currently, it represents the most effective SAR technology for the monitoring of complex areas, such as, for example, urban scenarios. It is also used operationally by the German Space Agency (DLR) for the monitoring and analysis of complex areas with the TerraSAR-X sensor.
This technology operates as a real "radar scanner", which allows to "inspect" (3D Imaging) very accurately the details of the observed scene from space. It allows also to solve the geometric distortion problems, which are intrinsic with the SAR system, in areas characterized by a high density of vertical structures, such as urban areas, where it happens that radar returns belonging to different parts of the single structure under observation interfere in the same SAR resolution cell.
By extending the tomographic model in the time domain (Differential SAR Tomography or 4D Imaging), it is possible to accurately monitor over the time possible target deformations.
Recently, the availability of high spatial resolution data, provided by the new generation of satellite sensors (such as the German TerraSAR-X and the Italian COSMO-SkyMed), enables to estimate millimetric deformations of single built structures, such as those due to thermal dilation phenomena (5D Imaging).
In the case of urban scenarios the possibility of obtaining detailed 3D models of individual structures on ground (for example buildings and infrastructures) and to monitor them in terms of temporal deformation at high-resolution represents an important advantage in the urban monitoring context and also for the environmental monitoring and security and the management of risk situations.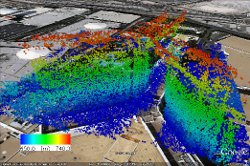 The research activity of IREA, progressing in parallel with the technological progress of the SAR sensors, has enabled to enhance the existing tomographic techniques. In fact, nowadays the tomographic reconstructions of the whole observed scene are characterized by a considerable spatial density. For this reason, tomographic reconstructions have started to be considered competitive with results obtained through an analysis based on the usage of optical sensors, such as LiDAR, which are typically exploited for the 3D reconstructions of buildings. With respect to the latter, SAR Tomography offers the further advantages of a temporal monitoring as well synoptical view.
SAR Tomography, being able to analyze the distribution at the different heights of the backscattering energy, is able to solve this interference and separate different targets inside the same pixel. Furthermore, by analysing dataset of images distributed in time, is even possible to estimate the deformation affecting each single interfering target, through the extraction of its deformation time series.