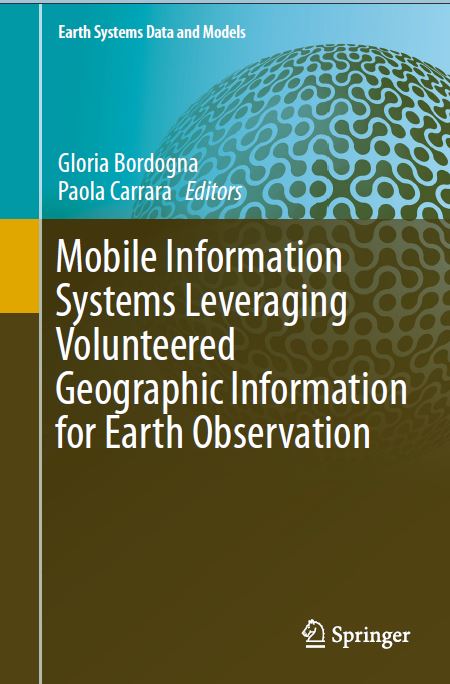 In January 2018, the book "Mobile Information Systems Leveraging Volunteered Geographic Information for Earth Observation", has been published by Spinger, with editors Gloria Bordogna and Paola Carrara Researchers at IREA. It reports on cutting-edge mobile technologies used to acquire, analyze and manage volunteered geographic information (VGI), outlining new methods and tools to help overcome the main drawbacks of using VGI in Earth observation. It also discusses relevant case studies and addresses practical issues.
The volume includes papers by IREA authors ("Can VGI and Mobile Apps Support Long-Term Ecological Research? A Test in Remote Areas of the Alps", Criscuolo, Laura et al., "VGI Imperfection in Citizen Science Projects and Its Representation and Retrieval Based on Fuzzy Ontologies and Level-Based Approximate Reasoning", Bordogna, Gloria et al.) and one paper by Professor Maria Brovelli, IREA associate, et al. ("Mapping Parties at FOSS4G Europe: Fun, Outcomes and Lessons Learned").
The book is divided into three parts, the first of which presents case studies on the implementation of VGI for Earth observation, discusses the characteristics of volunteers' engagement in relation with their expertise and motivation, analyzes the tasks they are called upon to perform, and examines the available tools for developing VGI. In turn, the second part introduces readers to essential methods, techniques and algorithms used to develop mobile information systems based on VGI for distinct Earth observation tasks, while the last part focuses on the drawbacks and limitations of VGI with regard to the above-mentioned tasks and proposes innovative methods and techniques to help overcome them.
Given its breadth of coverage, the book offers a comprehensive, practice-oriented reference guide for researchers and practitioners in the field of geo-information management.
---