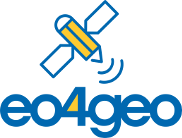 EO4GEO is an Erasmus+ Sector Skills Alliance gathering 26 partners (and initially 22 associated partners, looking forward to new adhesions) from 16 countries from academia, private and public sector active in the education/training and space/geospatial sectors. It is coordinated by the Association GISIG and will run over four years, starting from 1st January 2018.
EO4GEO aims to help bridging the skills gap between supply and demand of education and training in the space/geospatial sector by reinforcing the existing ecosystem and fostering the uptake and integration of space/geospatial data and services in end-user applications.
EO4GEO will work in a multi- and interdisciplinary way and apply innovative solutions for its education and training actions including case based and collaborative learning scenarios; learning-while-doing in a living lab environment; on-the-job training; the co-creation of knowledge, skills and competencies; etc.
EO4GEO will define a long-term and sustainable strategy to fill the gap between the supply of and demand for space/geospatial education and training taking into account the current and expected technological and non-technological developments in the space/geospatial and related sectors (e.g. ICT). The strategy will be implemented by: creating and maintaining an ontology-based Body of Knowledge for the space/geospatial sector based on previous efforts; developing and integrating a dynamic collaborative platform with associated tools; designing and developing a series of curricula and a rich portfolio of training modules directly usable in the context of Copernicus and other relevant programmes and conducting a series of training actions for a selected set of scenario's in three sub-sectors - integrated applications, smart cities and climate change to test and validate the approach.

Funds: European Union, Erasmus+ programme
Prime contractor: Association GISIG
Period of activity: 2018 - 2021
Funds to IREA: € 105.000
Responsible for CNR-IREA: Mario Angelo Gomarasca