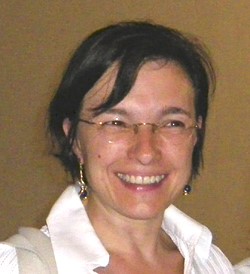 Maria Brovelli, Full Professor of Politecnico di Milano and Associate Member of IREA, has been elected Chair of the UN-GGIM Academic Network, an outstanding expert panel of United Nations focusing on topics and challenges of geospatial information (GI).
UN-GGIM (the Bureau of the United Nations Global Geospatial Information Management) addresses global issues about the exploitation of GI in the development agendas, supports policy in managing such information, and promotes its use to address key global challenges. In order to meet its objectives, UN-GGIM is assisted by the Network of academic experts that is going to be chaired by Professor Brovelli, whose main functions are:
• To provide academic counsel and guidance to UN-GGIM concerning strategic knowledge, research, education and training and to serve as a strategic academic arm for UN-GGIM and its related organizations and affiliated members in achieving their visions and goals;
• To provide a forum for coordination and dialogue among academics and researchers from the GI management community with a view to advance activities related to the administration, management, and use of GI, and to identify and respond to challenges and opportunities in which UN-GGIM and related members can achieve their visions;
• To provide a platform, so that the needs of member countries for GI data, technology, training and education, and the information of the capacities of academic network members are shared;
• To undertake work that is able to contribute to the Sustainable Development Goals of the UN (SDG) and other areas as appropriate including, access to land, property rights, ownership, land degradation, rapid urbanization, and climate change, in coordination with other expert entities.
Governance of the Academic Network is sketched in the Figure.The Chair and the Deputy Chair make executive decisions regarding network management, coordination and membership application requirement issues.

IREA is one out of three Italian members of the UN-GGIM Academic Network, together with Politecnico di Milano and University "La Sapienza" in Rome.
---